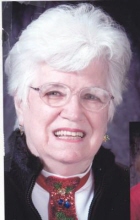 Obituary for Lila Ann Snedecor
Lila A. Snedecor, 89, of Carmi, IL—formerly of Eldorado, IL—died peacefully on Saturday, May 13th.

The Funeral Service will be at 1:00pm. Tuesday, May 16 at Watson Funeral Home in Eldorado. Pastor Mike Fields will officiate. Visitation will be two hours prior to service. After the burial at Lindale Memorial Gardens, a meal will be provided at the Hospitality Suite at Watson funeral home.

Born in 1928, Lila's intelligence and virtue became known at a young age. She was valedictorian of her High School class. She helped to grow a successful family business. She transitioned into a successful career at Burnett's Bank, eventually becoming a Vice President. She served her community of Eldorado as Chairman of the Chamber of Commerce. Lila was actively involved with Eldorado Garden Club, having served as President for two terms. Respected and admired by her coworkers, she was a model of competency and class in all of her professional and civic endeavors. Her personal life was even more impressive.

Lila was exceedingly devoted to her family. She shared 50 years of marriage with her beloved husband, David A. Snedecor. Although forever wounded by his untimely passing in 1996, her love to her family never faltered. She was a self-less and loving mother, grandmother, and great-grandmother. She is survived by her children Darrel (Jerri Anne) Snedecor, Lynn (Vick) Fromm, and Oma (Jerry) Rice; grandchildren Darrin (Stephanie) Rice and Rev. Lucas (Nicole) Rice; great-grandchildren Kelsey Rice, Lydia Rice, Theodore "Teddy" Rice, and Gideon Rice.

Her love of family was surpassed only by her love of God. Lila was a woman of great faith. She served the Church in countless ways. For decades she was the choir director and organist of Calvary Baptist Church in Eldorado. She also taught Sunday School, led Bible Studies, and served as a deaconess. In recent years she attended the First Baptist Church in Carmi and assisted in the worship services at Wabash Christian Retirement Center. She was model of faith and compassion to all that knew her.

She was preceded in death by her parents, Nolen and Annie Auten; siblings Irvin Auten and Edith Brown; and husband, David Snedecor.