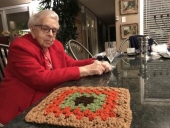 Obituary for Ella May Brown
Ella May Brown, who devoted her life to taking care of others as a nurse, wife, mother, grandmother and great-grandmother, died on Easter Sunday, April 16 in Dallas. She was 95.

Ella May was the youngest of five children born to Ernest Joseph Weaver and Ella May Hopper on Aug. 22, 1921 in Norris City, IL.

As with many of her Depression-era generation, her life was indelibly shaped by the poverty and lean times she endured as a child. She grew up on a 40-acre farm in a rural area of southern Illinois, where she learned the values of hard work, fierce independence and devotion to her family.

Ella May graduated from Norris City High School in 1938, at the age of 16, but spent most of her adult life in Harrisburg, IL.

Just a month before her 20th birthday, in July 1941, Ella gave birth to her first son, Walter Thomas, whom she named after his father, Walter Thomas Lawrence. The couple divorced shortly thereafter.

Like many women during WWII, Ella went to work in a local factory, making underwear. There, she met the man she described as "the love of her life," Anthony "Tony" Daniel Thompson, a general contractor in Harrisburg, who was nearly 20 years older.

The couple married Nov. 29, 1948, and took great joy in the delivery of their son, Thomas Phillip Thompson, on Feb. 22, 1950.

Ella May shared seven years of happiness with Tony before he died on April 29, 1957.

Ella told friends that losing Tony was one of the most painful moments of her life. But, ever the realist, and driven to give her sons more than she had as a child, she went to school to become a nurse.

A year after Tony's death, she received her certification as a Licensed Practical Nurse, and she met and married William Pious Brown. He suffered from severe emphysema, and died five years later, leaving her widowed for the third time at age 43. She never remarried.

She raised her children and worked in a variety of nursing jobs at Lightner Hospital, Doctor's Hospital and A.L Bowen Children's Center in Harrisburg, IL.

Although quiet and introverted by nature, Ella May was determined and strong-willed. She was heart-broken by the death of her oldest son, Walter, in 2006, when she was 85, yet she pushed forward with her life.

She enjoyed crochet and knitting, making quilts, bedspreads and assorted items for her family members. And she loved shopping at garage and estate sales. She had a sharp mind, keen sense of humor and, in her younger days, she could whistle like a songbird.

Her favorite pastime, however, was spending time with her cherished grandchildren and great-grandchildren. She doted on them and their activities.

She formally retired from nursing at the age of 65 and took pride in the fact that she mowed her own yard and still earned a small income from mowing neighbors' lawns until the age of 88. She insisted on helping friends with nursing duties well into her 90s, and lived in and maintained her own home until she was 95.

As her health declined in 2016, she finally accepted an offer by her younger son, Tom, and his wife, Bella, to move into their home in Dallas.

At age 95, for the first time in her life, she moved away from her home state of Illinois and began a new life in Texas. Tom and Bella arranged and decorated her part of the house just as it had been in Illinois, surrounding her with favorite pictures and belongings she'd collected over a lifetime.

With the help of new hearing aids, she stayed in close touch with friends and relatives in Illinois by cell phone. She enjoyed organizing her stamp and coin collections and displaying her beautiful handiwork.

And she delighted in telling stories of her childhood: walking down a dirt road to attend a one-room schoolhouse, milking the cows, and helping with chores around the farm as the family struggled during the hard years of The Depression.

She died just one day shy of her mother's birthday, after a valiant struggle following emergency surgery for a blocked colon. She suffered a series of post-surgical strokes and died peacefully under hospice care.

She was preceded in death by her older son, Walter, and his daughter, Connie Jo Dowdy, both of Harrisburg, IL; and three husbands and her parents.

Survivors include: son, Tom Thompson and his wife, Bella Antebi-Thompson of Dallas, TX;  daughter-in-law Sue Chamberlain Thompson; grandchildren:  Debra & Keith Ledbetter of Harrisburg, Tony & Kim Thompson of Harrisburg , Brian Thompson of Harrisburg, Shana & Kyle Carrico of Maryville,Il., Alan and Michael Weinstein of Dallas, TX; and great grandchildren: Jason and Michael Ledbetter of Harrisburg, Melissa and Hannah Thompson of Harrisburg, Aaron & Aly Toothman of Harrisburg, Tiffanie Thompson of Harrisburg;  great-great grandchildren: Jordan Curtis, Braxton Thompson, Adalyn Toothman and Arrianna Toothman all of Harrisburg and Russel James Carrico of Maryville,Il.

A Graveside service is set for Wednesday, April  26th at 1:00 PM followed by burial at Sunset Lawn Cemetery, in Harrisburg, Il.

Memorials in honor of Ella should be made to your personal favorite charity in lieu of flowers.

Family wishes to thank Medical City Hospital ER and ICU, Compassionate Care, Belterra Health & Rehabilitation as well as Dr. Shounak Das, Dr. Christopher Bell and his team, Dr. David Seng along with Janet Chipango for their care for Ella in Dallas and Judy & Jeff Beam of Eldorado, IL for their longtime care and friendship.